Discover amazing beaches
The 'Grand Lady of the Ionian' has countless beaches of unbelievable beauty
How many shades of blue are there? All you have to do is list them as you lay back on your sunbed and observe the waves breaking. Thirty beaches have been awarded a Blue Flag, adorning the 217km of Corfu's coastline, set against a lush background of forest green. And there are many others, just as wonderful. Here they are to get you dreaming.
Sidari: Endless sandy beaches with stunning sandstone formations, as if the sea moulded the sand like a potter. On its western side, there are the fjords and the famous Canal d'Amour. The myth has been passed along for generations that, if you swim in this natural passage, you'll find your soul mate. In Sidari, there is also a waterpark that's fun for all ages, while at the port there are boats ready to take you on daily excursions to the Diapontia islands.
Paleokastritsa: Six beaches, each more beautiful than the next in an area that for decades reigns as Corfu's queen of tourism. Take note:
Agia Triada: Deep waters with a sometimes rocky, sometimes sandy seabed. Water skiing, parasailing, boat rentals, bars and restaurants are just some of the facilities and activities you'll find here.
Alipa: A sandy beach, with big rocks along its northern part. Clean and crystal clear waters. Here you'll find umbrellas, sunbeds, boat rentals and a restaurant, as well as a fishing port.
Agios Spyridonas:  The most picturesque and popular of all the beaches in Paleokastritsa, since it looks out at the cliffs. It is fully-organised and offers all sorts of water sports.
Agios Petros: A beach with both sand and pebbles, ideal for water sports.
Ambelaki: A quiet beach with deep waters and a rocky seabed. It is fully equipped with umbrellas, sunbeds and boat rentals.
Platakia: Two neighbouring beaches with pebbles, umbrellas, sunbeds and a restaurant.
Benitses: In this village, you'll find more than one beach with sand or pebbles. The biggest (the first you'll encounter after Kaiser Bridge) is fully-organised, with umbrellas, sunbeds, water sports, bars and tavernas.
Kontokali: Just a stone's throw from town and very near the Gouvia marina, you'll find one of the most developed resorts in Corfu. The beach is impressive: large and sandy, with high standards of service and facilities, hundreds of umbrellas, and a large selection of water sports.
Myrtiotissa: Situated between Ermones and Glyfada, you'll find the cape of Agios Georgios. On its southeastern side, the area of Myrtiotissa has one of the most beautiful beaches on the island. To get to the beach, you need a 4×4 or to walk for about 20 minutes. It has refreshing water, golden sand, a vibrant seabed perfect for snorkelling or scuba diving and a little freshwater stream that flows from the rocks into the sea.
Glyfada: Myrtiotissa's neighbouring beach. It's very busy and popular, with fine sand, surrounded by pine-studded hills, olive groves and villas. It is fully-equipped, including a space for beach volleyball. About 4km away, you'll find the Corfu Golf Club and the Corfu Horse-Riding Club. Nearby is the well-known waterpark, Aqualand.
Acharavi: A very popular beach, with shallow waters and fine sand. It has facilities for water sports as well as tavernas.
Roda: One of the busiest beaches on the island, located right after Acharavi. It's fully-organised, with plenty of options for water sports, restaurants and bars.
Arillas: Right after Kavokefali, you'll encounter Arillas, a large sandy beach with shallow waters. Aside from water sports, it offers many opportunities for hiking, horse riding and excursions to the surrounding areas. The sunset in the nearby village of Afionas is breathtaking.
Agios Georgios Pagon: A beach shaped like a horseshoe, surrounded by rugged cliffs that descend to the sea, creating isolated coves. Deep waters to the right and warm waters to the left – perfect for small children. It's worth taking a boat ride, canoe or paddleboat to the natural bay of Porto Timoni. Here you'll find snacks, food, cocktails and water sports, as well as accommodations.
Halikounas: A thin strip of land separates the beach from the protected Korission lagoon. Leave the sand dunes and walk across the wooden bridge to a rare forest with cedars and orchids. The wind and waves in the area make Halikounas an ideal kite-surfing destination.
Agios Georgios South: Crystalline, refreshing waters and a beach 8km long. In the northern part, you'll find Issos beach with its sand dunes, extending as far as the cedar Forest of Korrision Lake. In the southern part, there are two successive beaches, Marathias and Agia Varvara, perfect for paragliding, scuba diving and other sea sports.
Apraos or Kalamaki: Sand onshore and shallow waters for several metres into the sea. Anyone who wants to swim in deep waters that exceed the knee must walk along the wooden pier that reaches the edge of the continental shelf. Perhaps the best beach on the island for small children.
Ermones: On the southernmost tip of the Ropa Valley, 3.5km after Giannades, there is a deep bay with a small sandy beach encircled by green, steep hills. Restaurants, bars, shops and hotels ensure that you'll have everything you need.
Kavos: Cavo Bianco of the Venetians is today a popular destination for young tourists from all over the world, as the fun at the bars and beach bars begins in the morning and lasts well into the night. Shallow waters, fully-equipped facilities and opportunities for excursions to Paxi and Parga. It is the most developed tourist area in Lefkimmi.
Ipsos: Crystalline waters and a hospitable beach across the length of the entire bay. Whichever lounge chair you choose to sit at, you'll enjoy beach services of the highest standard.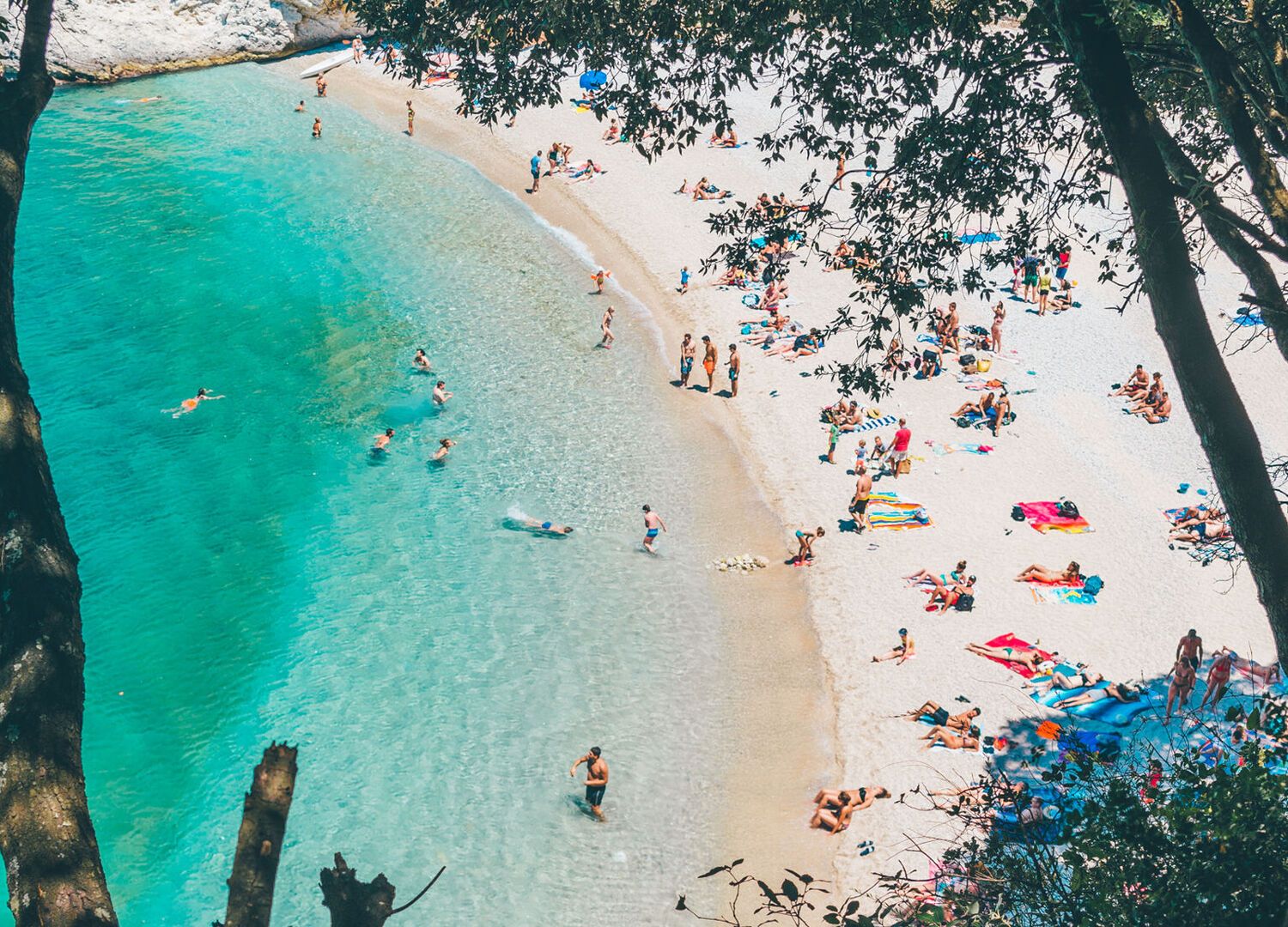 Agios Gordios: An endless beach of golden sand, as well as pebble and crystal-clear waters. To the left, there are steep vertical cliffs with dense vegetation and the rocky islet of Tholeto. There are fully-equipped facilities, including water sports, restaurants, bars and boat rentals.
Dassia: Oblong, with pebbles and a view to the mountains of Albania. In the distance, there is a platform to dive off or to use as a starting point for your favourite water sports.
Mesoggi: To the left flows a small river and to the right there is a lush, green hill. With plenty of tavernas to choose from and with sunbeds and pedal boats to rent.